Silver Creek Elementary's performing ensembles had their spring concert last Wednesday, May 11, 2022. Our talented students did an excellent job singing and playing on stage for a full audience. We will see them perform for the last time this academic year at the annual Gala Concert in June. #wearesilvercreek #BKP #blackknightpride

Thank you to everyone who turned out last night for Silver Creek's first-ever unified basketball team home game against Southwestern! We appreciate the community support for both teams! #wearesilvercreek #BKP #BlackKnightPride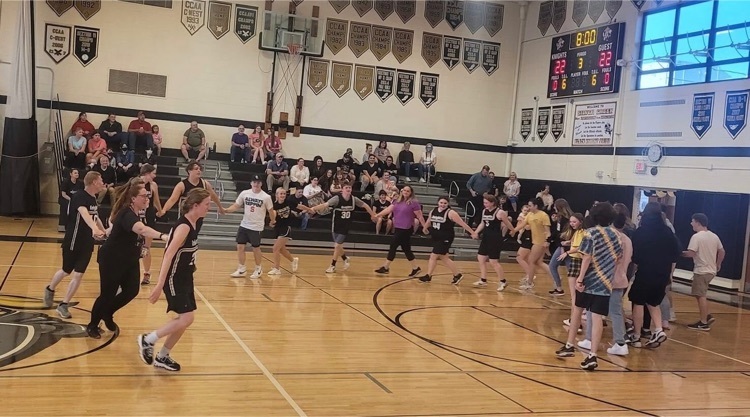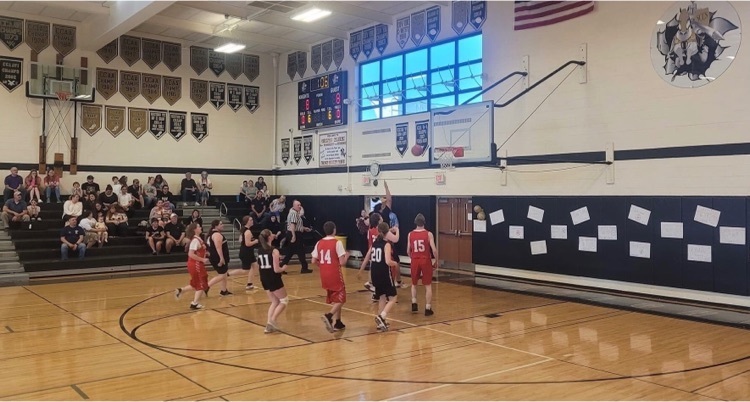 It's GAME DAY for Silver Creek's UNIFIED BASKETBALL team! 🏀 Come cheer on our Black Knights at 5 p.m. in the high school gym!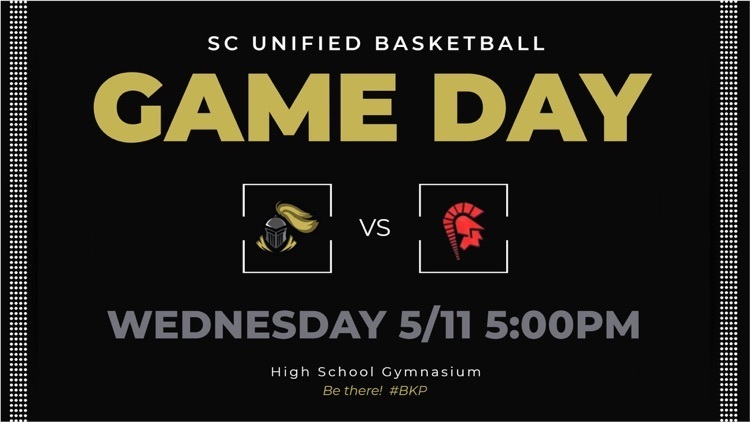 Our friends at the Seneca Nation of Indians Department of Education are hosting a 𝗠𝗘𝗘𝗧 𝗧𝗛𝗘 𝗖𝗔𝗡𝗗𝗜𝗗𝗔𝗧𝗘𝗦 𝗡𝗜𝗚𝗛𝗧 for local Board of Education candidates on Thursday, May 12, 2022, at 6 p.m. at the Early Childhood Learning Center, 2016, Henodeyesta' Drive, Irving, N.Y., behind the CCC building. Each year school boards select members through an election process. Native parents are eligible to vote in these elections. This meeting will allow parents/guardians an opportunity to meet the current candidates running for board positions and an opportunity to ensure Native voices are heard within the board. SCHOOLS/CANDIDATES: SILVER CREEK: Michael Grisanti and Joel Blasdell GOWANDA: John Waterman and Barbara Weston and Shauna McMahon LAKE SHORE: Megan Miller, Dennis Feldman, Arlene DeJoy-Meckes, Bill Connors, and Doug Tubinis MEETING SCHEDULE: Welcome and Introductions in main lobby of ECLC Trudy Jackson, Education Director Breakout meeting rooms to allow parents an opportunity to talk with candidates by district.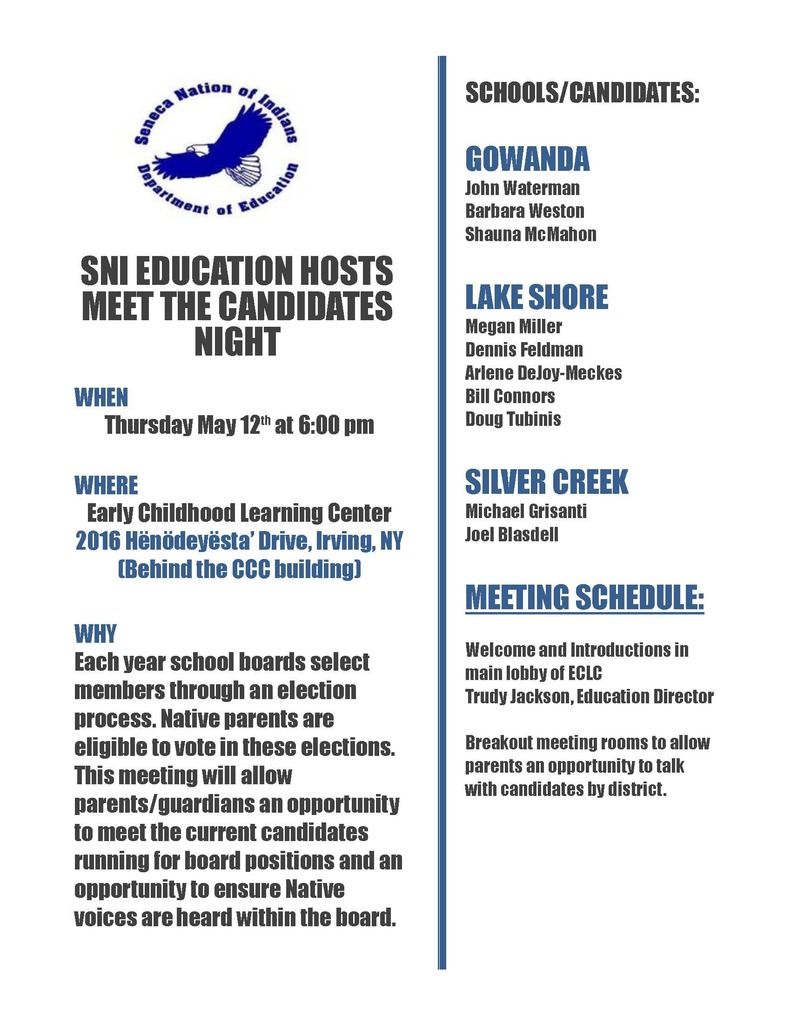 Silver Creek Elementary School students in third through fifth grades who participated in Boys on the Right Track completed a community service project in Fall 2021. They made cards and a box of treats for local veterans. Members of the VFW Auxiliary met with the boys Tuesday, May 10, 2022, and presented them with a certificate and American flag pin. We are grateful for the community partnerships that make these type of experiences possible for our students. Thank you! #wearesilvercreek #BKP #BlackKnightPride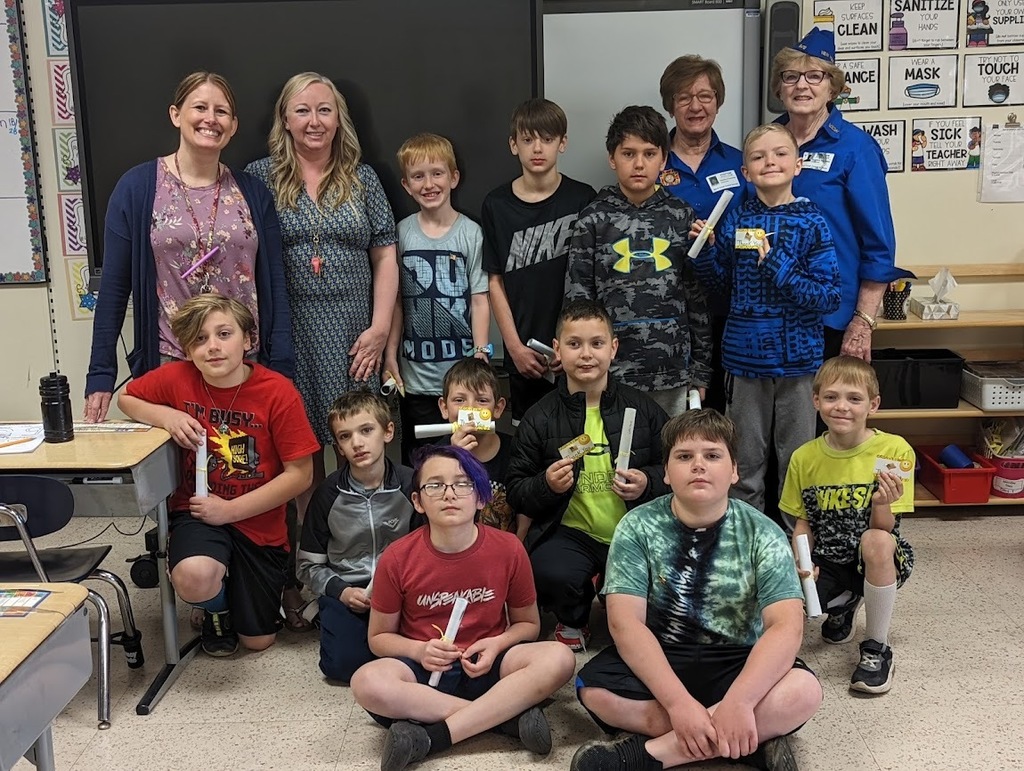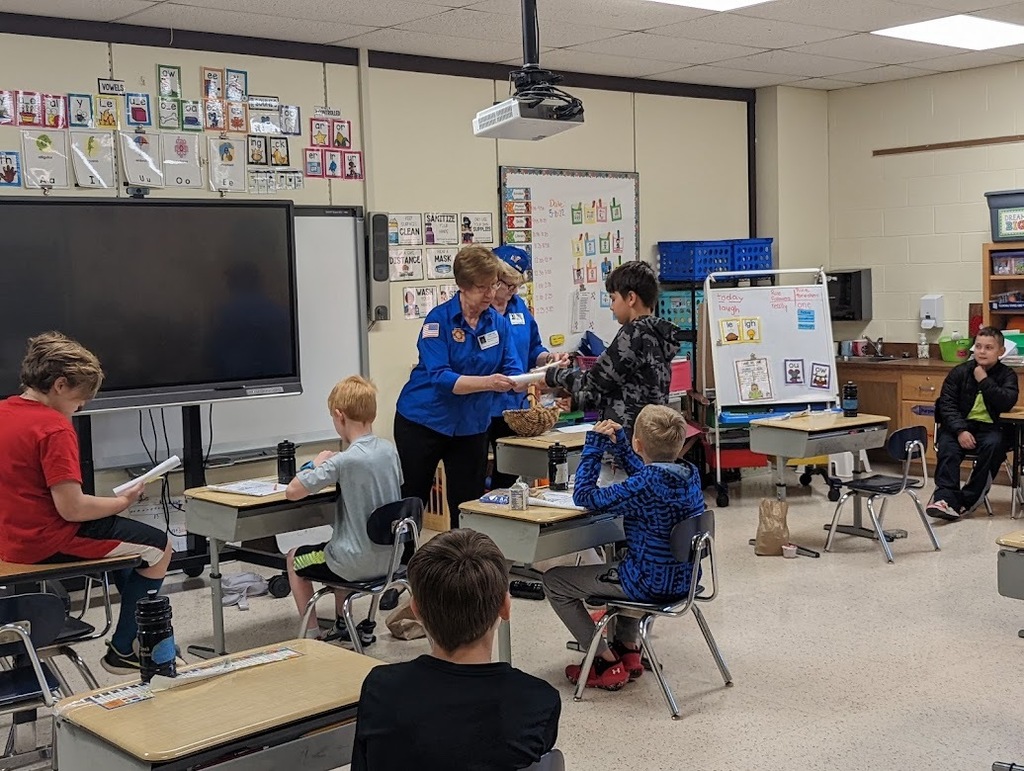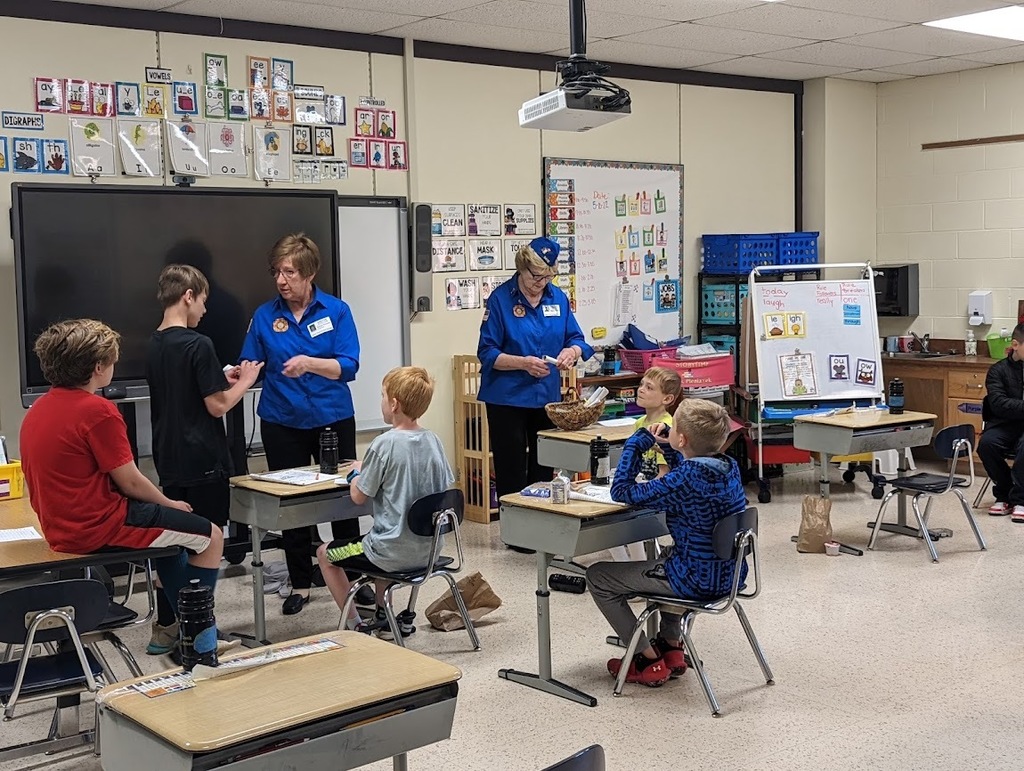 Silver Creek Central School District is hiring bus drivers and bus aides. 🚌 Interested candidates should apply through the WNY School Application System
http://www.wnyric.org/
application or submit a completed application, Civil Service application, references and certifications to: Lisa Rohloff, School Business Administrator Silver Creek CSD PO Box 270 Silver Creek, NY 14136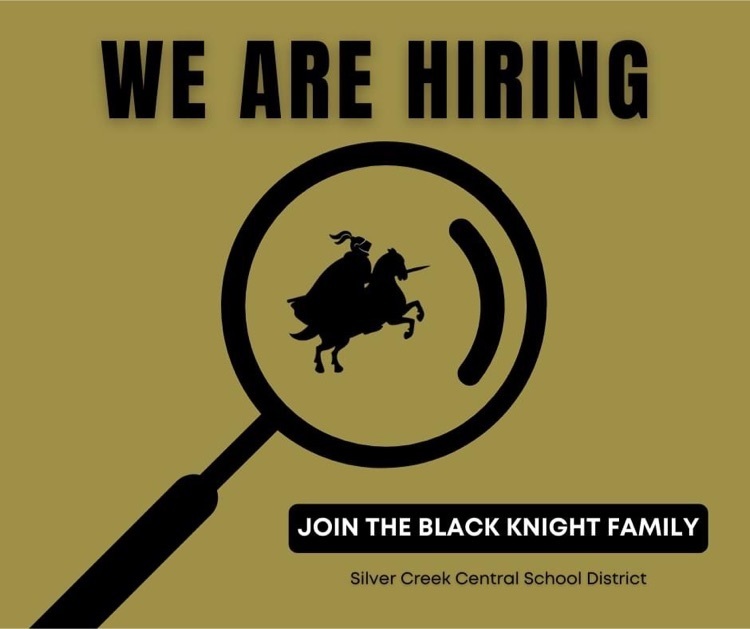 Happy School Nurse Day! Silver Creek Central School District is grateful to its nursing staff for taking such good care of our students. Please join our Black Knight family in celebrating School Nurse Day on Wednesday, May 11, 2022. #wearesilvercreek #BKP #BlackKnightPride #SchoolNurseDay2022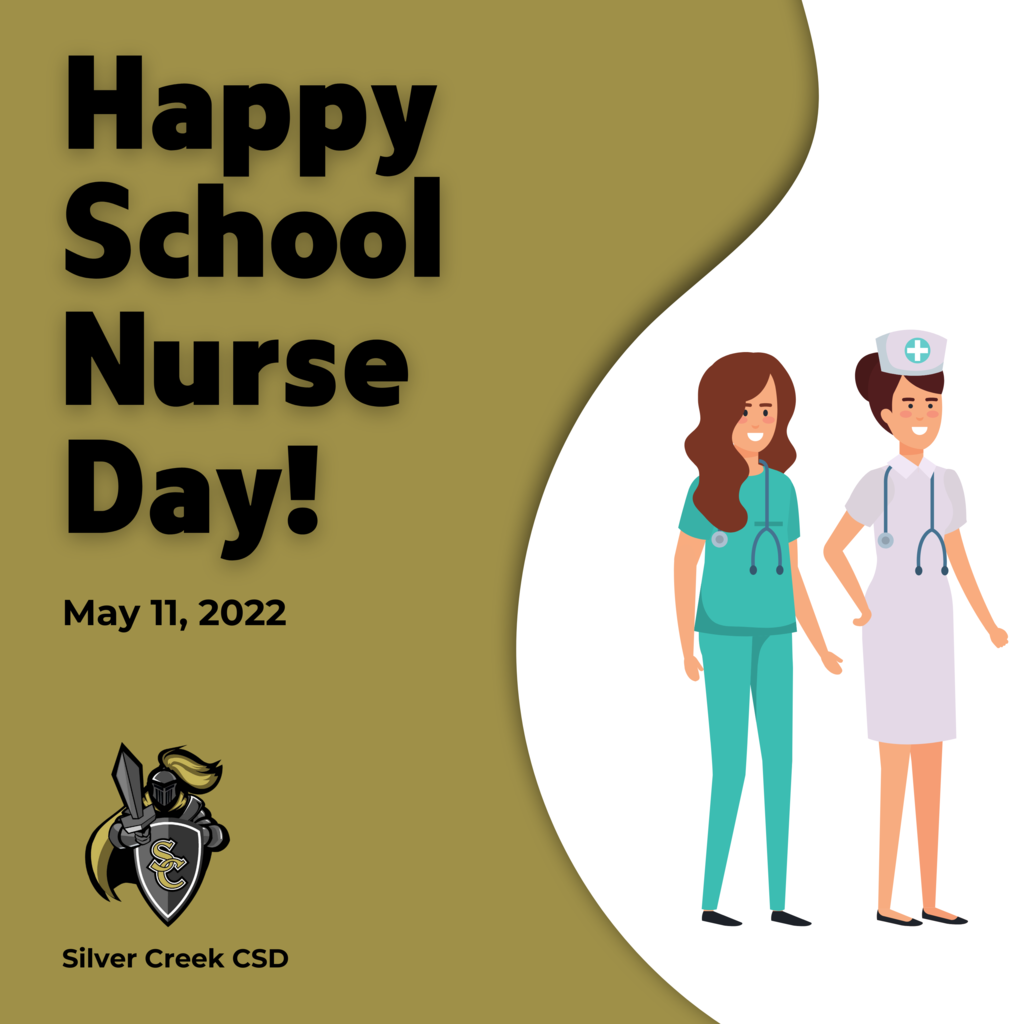 Mrs. Rich and Mrs. Westlund's STEAM students at Silver Creek CSD love to observe and learn about the world! We invite you to watch their newest arrivals with this LIVE link.
https://ensemble.e2ccb.org/Watch/Nr8e6MBq
Can you identify this species? In 10 days, this animal will look very different. What do you think it will look like? Draw a picture and date it. Watch and see if you were right! #ScienceTuesday #STEAM #STEM

May is Better Hearing and Speech Month! Please join Silver Creek Central School District in raising awareness about communication disorders. Here are some things you can do at home to enhance your student's speech and language skills, according to the American Speech-Language-Hearing Association: In Early Grades K–2: · Talk with your child a lot. · Read different types of books. Read every day, and talk with your child about the story. · Help your child learn sound patterns of words. You can play rhyming games and point out letters as you read. · Have your child retell stories and talk about his day. · Talk with your child about what you do during the day. Give her directions to follow. · Talk about how things are the same and different. · Give your child chances to write. In Later Grades 3-5: · Keep your child reading. Find books and magazines that interest your child. · Ask your child what he thinks about what he hears or reads. Connect what he reads to events in his life. · Help your child connect what she reads and hears at school, home, and other events. · Talk out loud as you help your child read about and solve problems. · Help your child recognize spelling patterns. For example, point out the beginnings and endings of words, like "pre-" or "–ed." · Get your child to write letters, keep a diary, and write stories #wearesilvercreek #BlackKnightPride #BKP #BHSM #BHSM2022


The Native American Education Committee for Silver Creek Central School District is set to meet Thursday, May 12, 2022, at 5 p.m. #wearesilvercreek #BKP

TONIGHT'S THE NIGHT: Silver Creek Elementary teacher Kristen Kline is appearing tonight (Tuesday, May 10, 2022) on "FAMILY FEUD" so be sure to tune in to WUTV at 7:30 p.m. and root for one of our Black Knights! 📺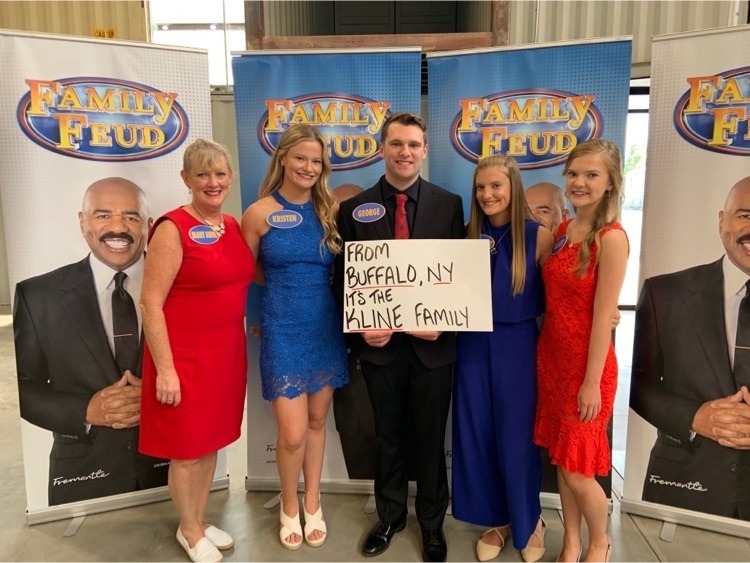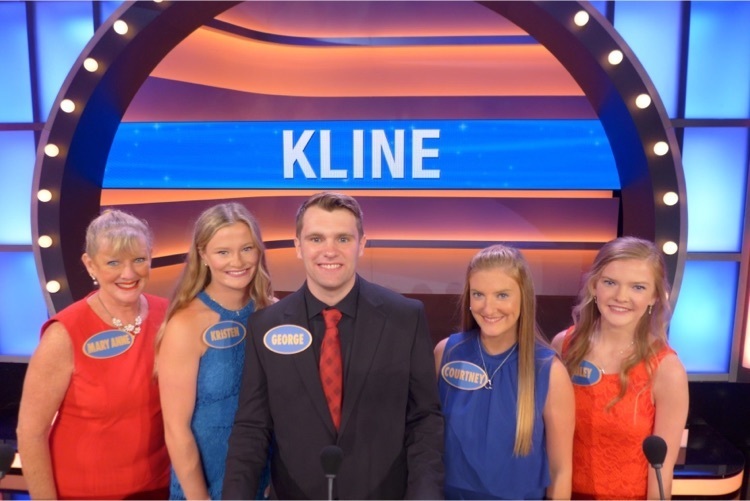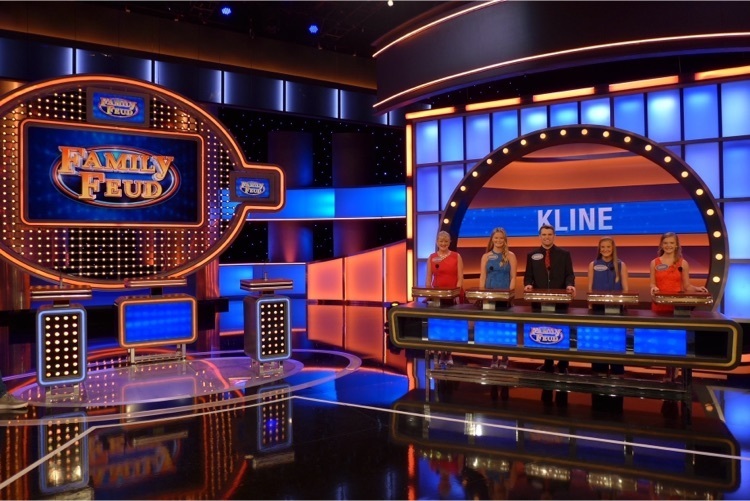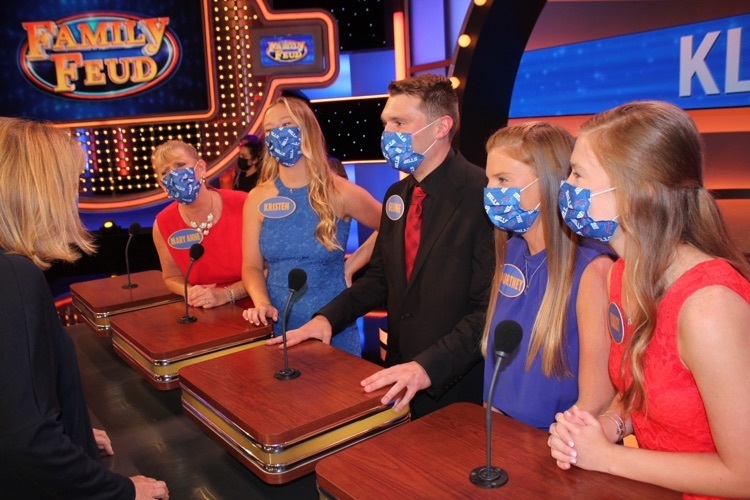 Students in the Great Minds club at Silver Creek Central School District learn to build robots and code them to move. These Black Knights learn how to problem solve and work with each other to find solutions to building or coding problems. 🤖 #wearesilvercreek #STEM #BKP #blackknightpride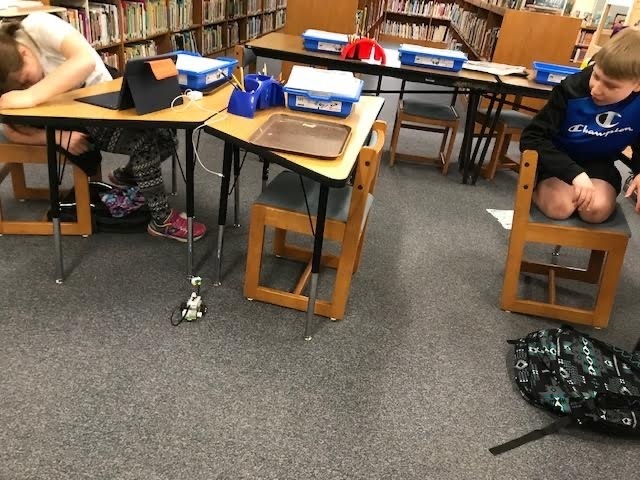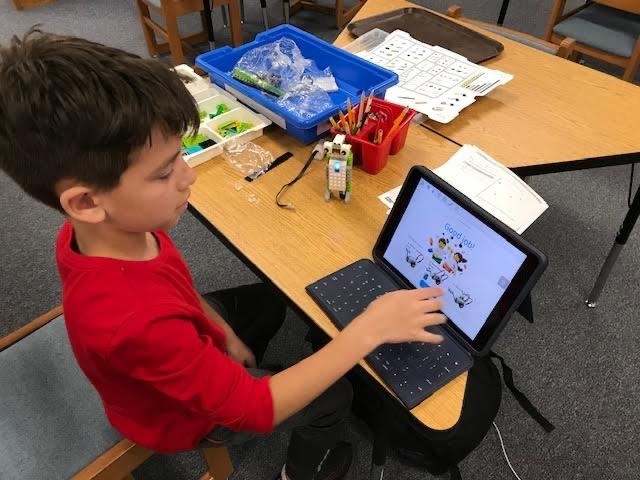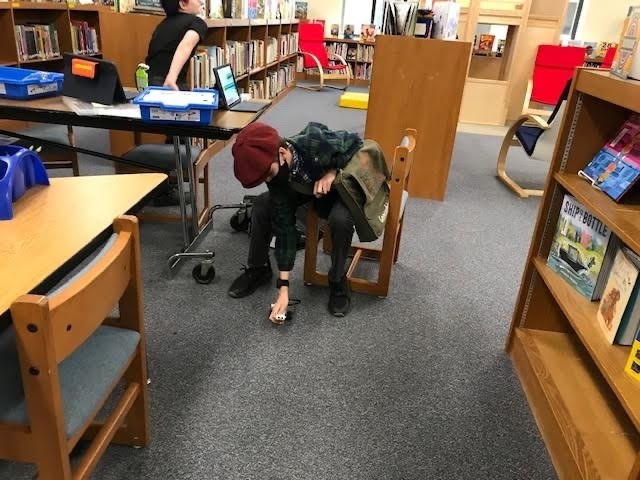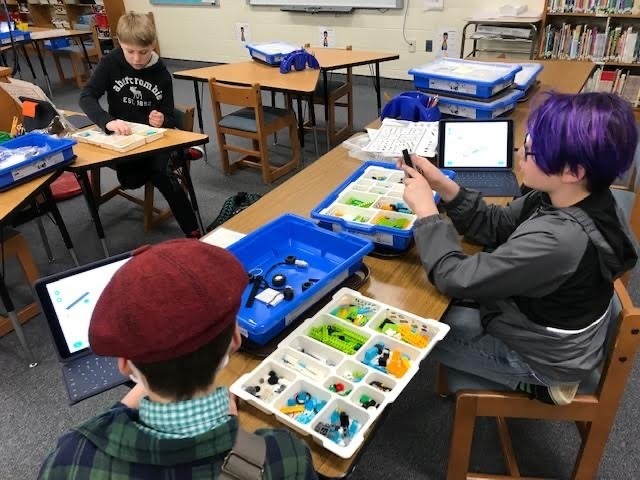 BOARD OF EDUCATION STATEMENT 5/5/2022 The investigation into allegations contained in the March 28, 2022, Letter (the "Letter") submitted by District administrator Jay Hall to the Board of Education is in its final stages. In the meantime, all use of the room remains suspended. The District has made every effort to ensure that a thorough, informed, comprehensive investigation is conducted. To that end, and as we explained in our last update, the District has repeatedly sought to meet with Mr. Hall to gain a full understanding of the claims he has brought forth. Mr. Hall has repeatedly declined to participate. Instead, as we mentioned previously, he sent another letter to the Board, which he also published on social media, claiming to have a 90-page report that he's chosen not to share with the District. Bottom line – it remains that Mr. Hall claims to have information regarding mistreatment of students, but he won't share it with the District so that it can be considered, and any necessary and appropriate action can be taken. Since the last board meeting, the District has also received four Notices of Claim filed by Jay Hall's brother, attorney Rich Hall. The District is reviewing the Notices of Claim with its insurance company and counsel, and it will respond appropriately. The District will complete its investigation shortly, and as I stated at the last meeting, it is being completed with the singular goal of getting to the truth. And I will repeat it again – if anyone has any information related to the matters raised by Mr. Hall, or that they believe may be in any way relevant to the treatment of our students, we urge you to bring it forward. Finally, the investigators continue to provide regular updates to the Board, and the Board remains confident that the District is providing a safe, secure, and welcoming environment for all students.

Please see the attached update from Mr. Crandall regarding the investigation into the de-escalation room.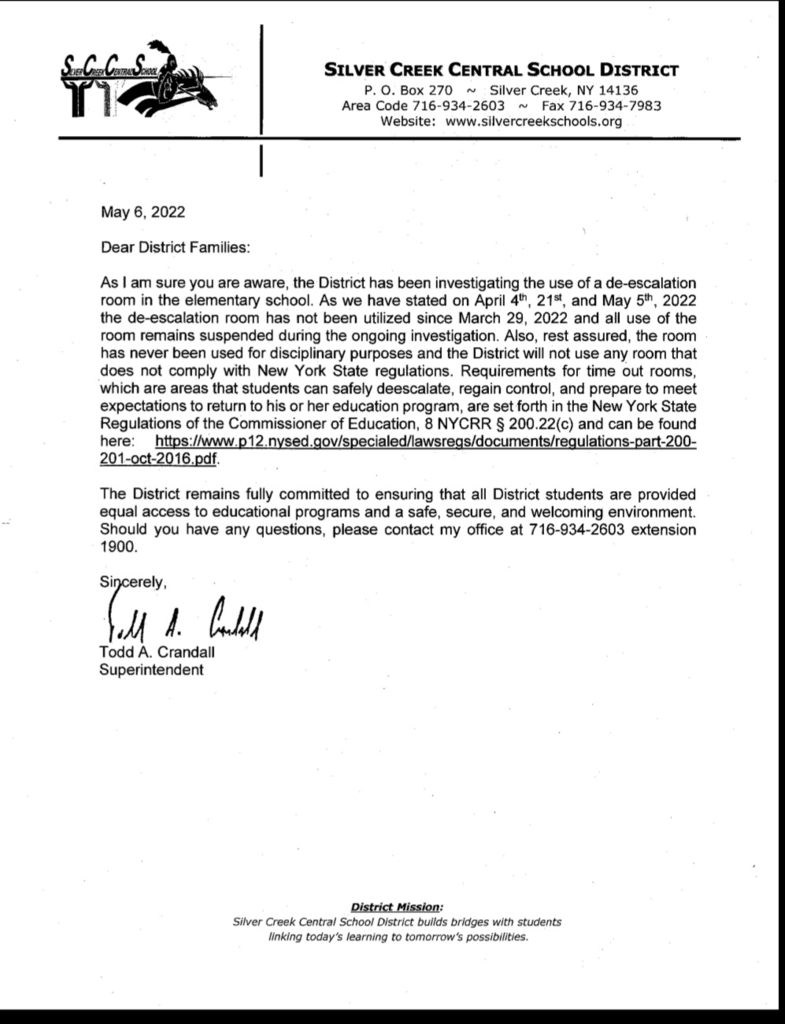 Students in Mrs. Buczkowski's class celebrated Star Wars Day (May the 4th) with visual/motor droids, fine motor Yodas, sensory integration characters, and themed treats!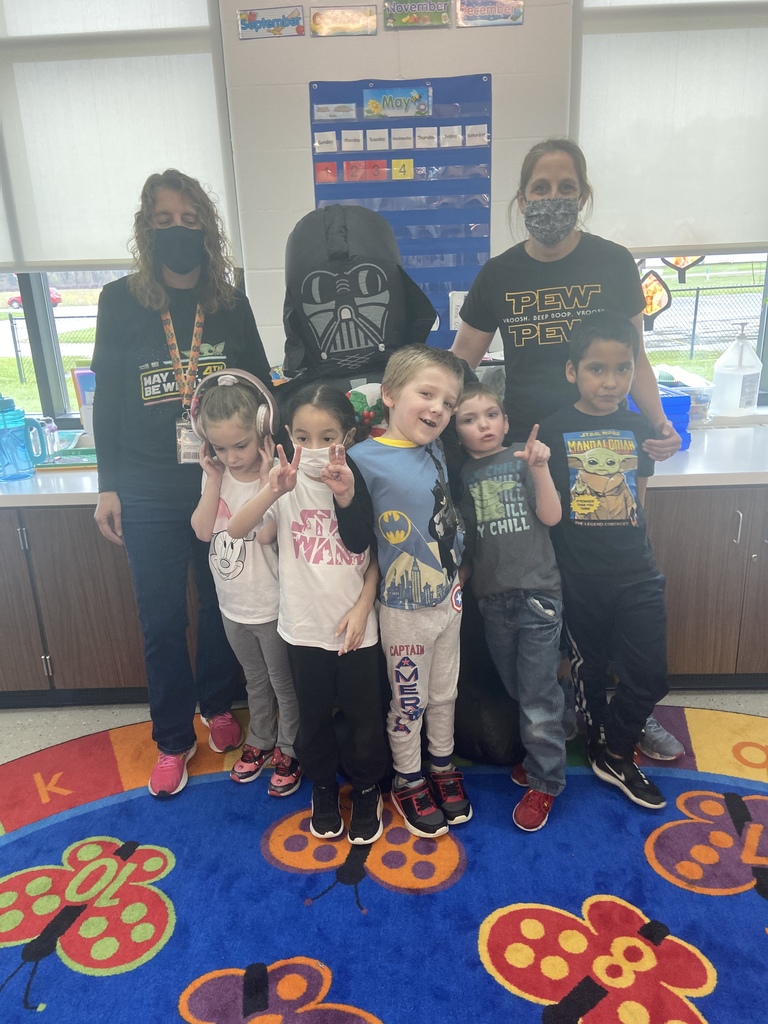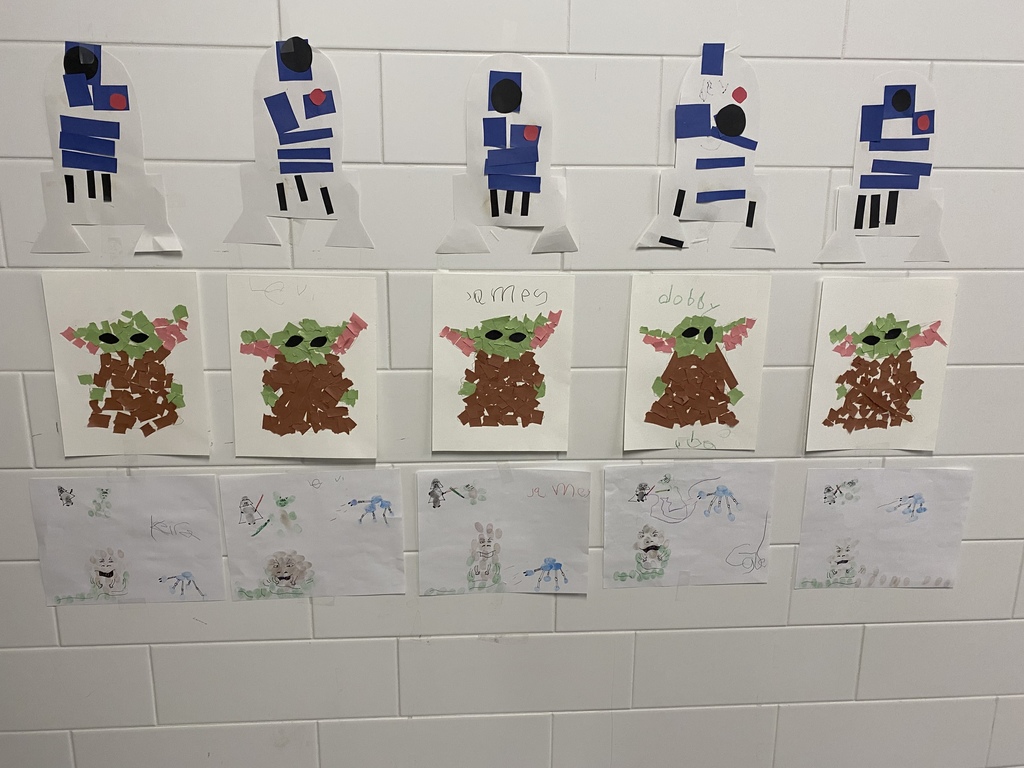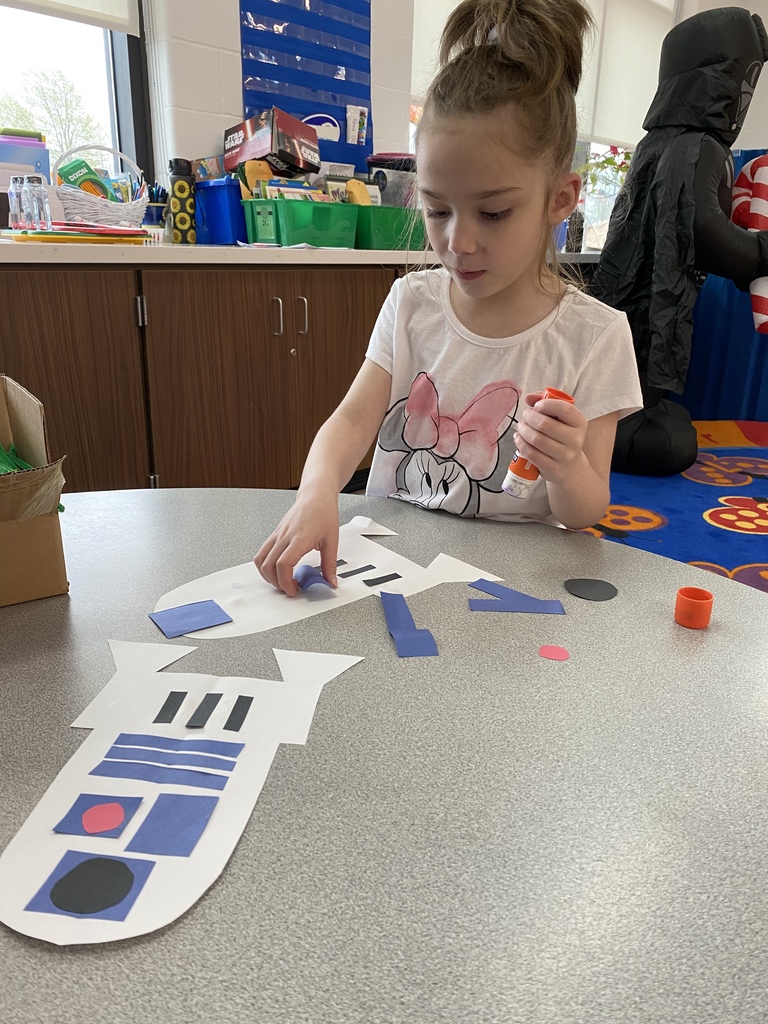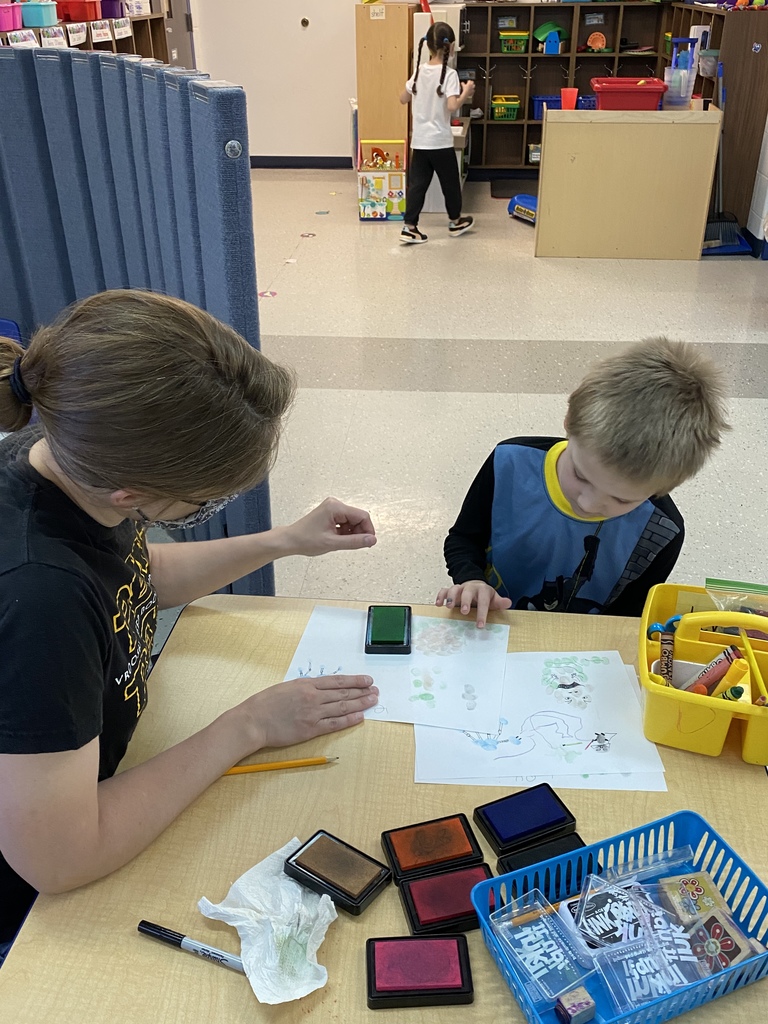 Silver Creek Central School District is seeking applicants for three Summer Information Technology Preventative Maintenance Positions (1) - 12-week position starting June 13 and (2) - 9-week positions starting July 5 All positions are at 35 hours per week. These part-time positions will report to the Technology Coordinator. These are short-term, seasonal summer appointments. Requirements: • Experience with preventative maintenance and cleaning of computer and technology equipment. • Understanding of Network equipment and technology installation procedures helpful. • Some knowledge of peripherals and hardware helpful. • Ability to lift heavy computers and hardware to help with the movement of technology equipment during installations and cleaning. Job description requirements include: 1. Assist with the setup and configuration of technology equipment in the district including tablet devices. 2. Assist with the preventative maintenance of technology equipment in the district. 3. Moving and inventorying of computer equipment. 4. Other related duties, as assigned by the Technology Coordinator. Compensation: $13. 70/hour Submission of Letters of Interest: Letters of interest and Civil Service Application should be sent to Michelle Helmer, SCCS Director of Curriculum, Instruction and Technology, by June 1st, 2022. Letter must include a commitment of time availability, commencing either June 13th or July 5 , 2022.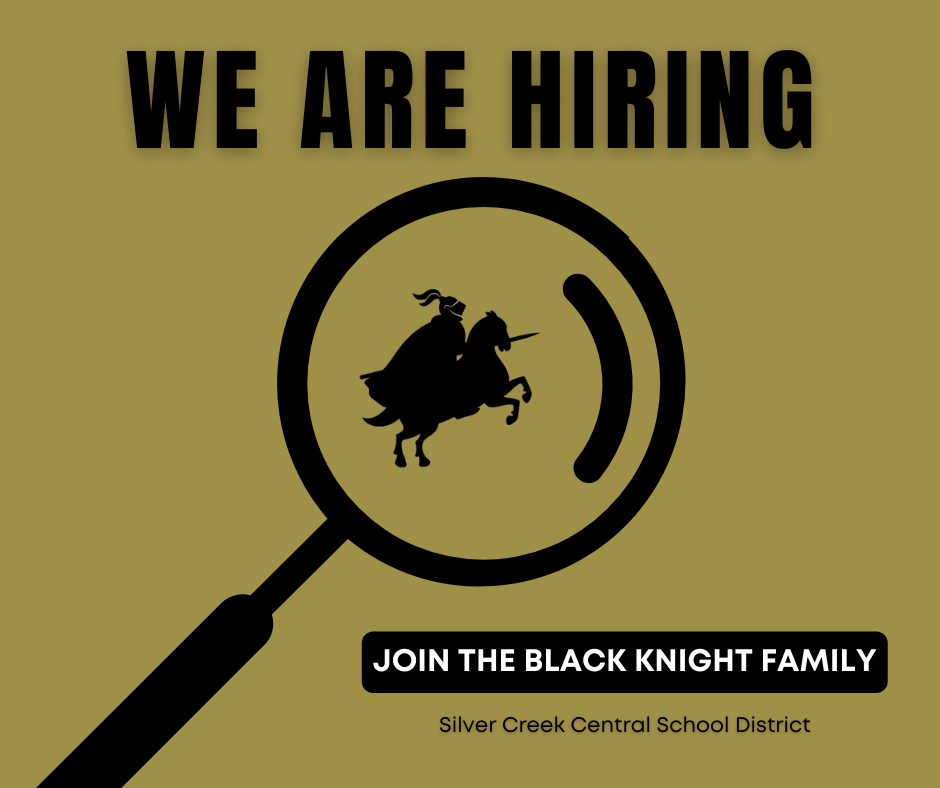 Silver Creek Central School District is excited to invite the community to its UNIFIED BASKETBALL TEAM'S first home game of the season! Please come cheer on our Black Knights and their opponent, the Southwestern Trojans, on Wednesday, May 11, 2022, at 5 p.m. in the high school gym at this heartwarming, family friendly event. Silver Creek CSD stands behind the simple principle that inspired Unified Sports – training TOGETHER and playing TOGETHER is a quick path to friendship and understanding. So let's fill the stands and cheer on both teams TOGETHER. Unified Sports – which join people with and without disabilities on the same team – have been part of the district's athletic program for three years, with students competing against other districts for bowling. This is the basketball team's inaugural season and our student-athletes are very excited. The district's Youth Advisory Committee is also planning some fun events during breaks in the game and concessions will be sold. Games typically last about an hour.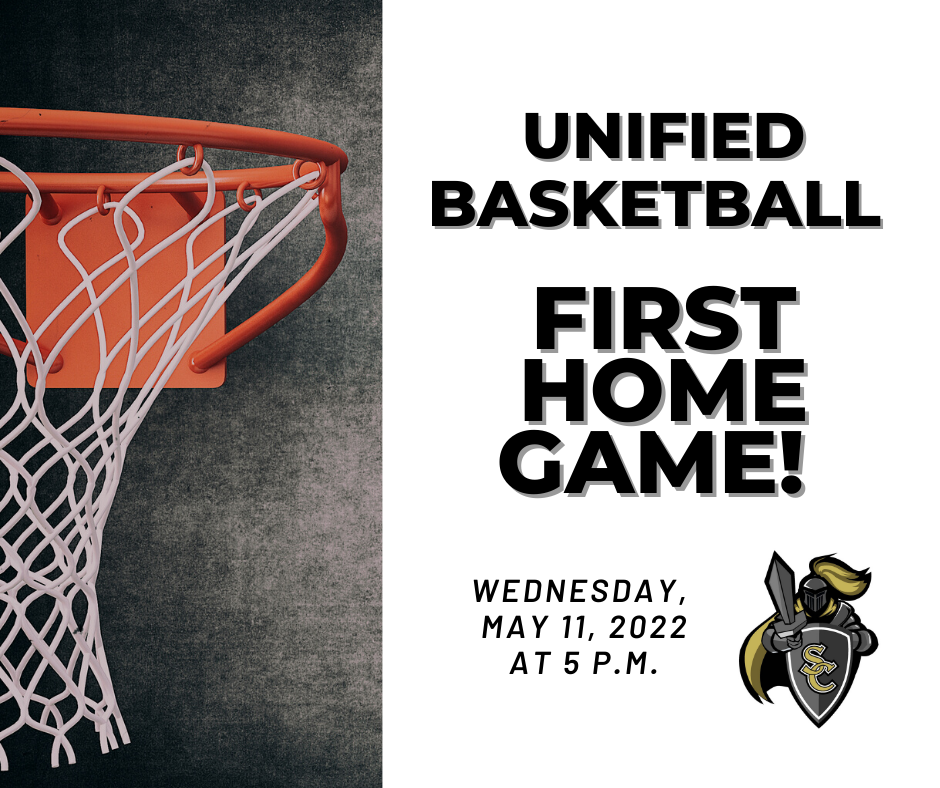 NEW STAFF MEMBER ALERT! Please help us with a big #BlackKnightPride hello for our new School Psychologist at Silver Creek Central School District! Let's give ANTONETTE BACKERT a warm welcome! Ms. Backert says she is excited to be part of the Silver Creek community. "The students and staff here have been so welcoming. I still have a lot to learn about the district and the community," she says. "But I am definitely up for the challenge!" Family: She has two beautiful children, Emersyn, age 2, and Patrick, age 4 months. She lives with her boyfriend, Patrick, and their dog named Lexi. Hobbies & interests: She LOVES the Buffalo Bills and New York Yankees. She is big into outdoor activities such as hiking, kayaking and paddle boarding. She also participates in triathlons, half marathons and 5Ks throughout the summer. She played softball in college and rowed competitively. Education: She was an undergraduate psychology major at Canisius College then majored in psychology at Niagara University. She is currently completing a doctorate in education and school psychology at Indiana university at Pennsylvania. #BKP #BlackKnightPride #SilverCreekCSD #NewStaff #WelcomeWagon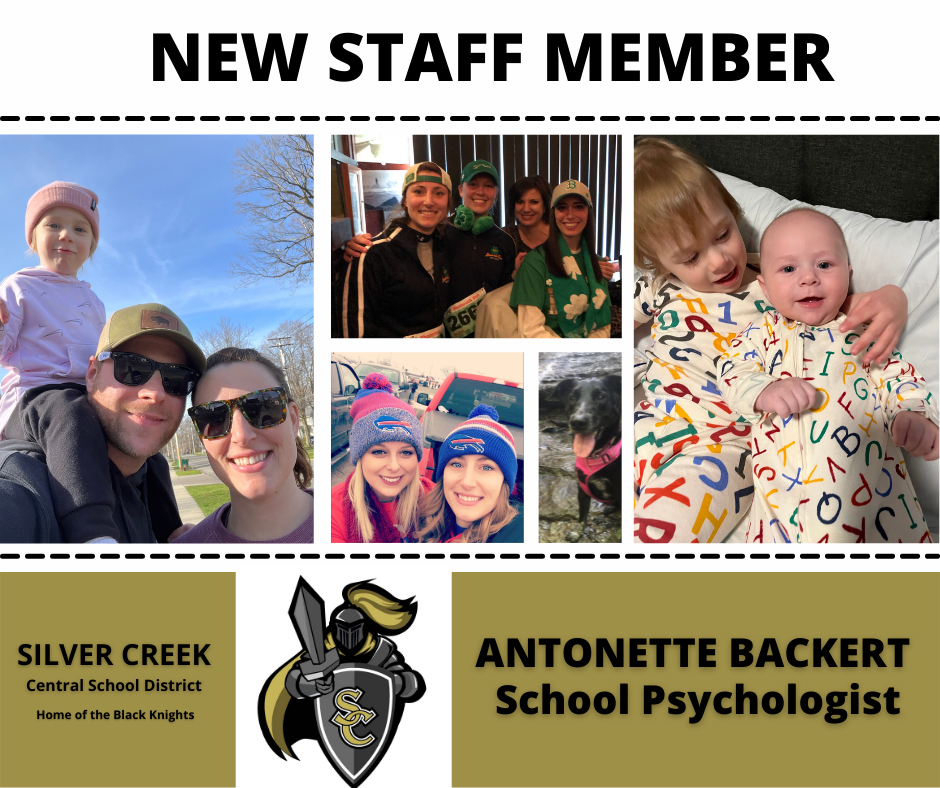 Mrs. Jody Johnson and Miss Mary Williams gave a sweet welcome to new principal Mr. Kyle Yelich this morning with cinnamon rolls from Aunt Millie's Restaurant on his first day! We wish him all the best!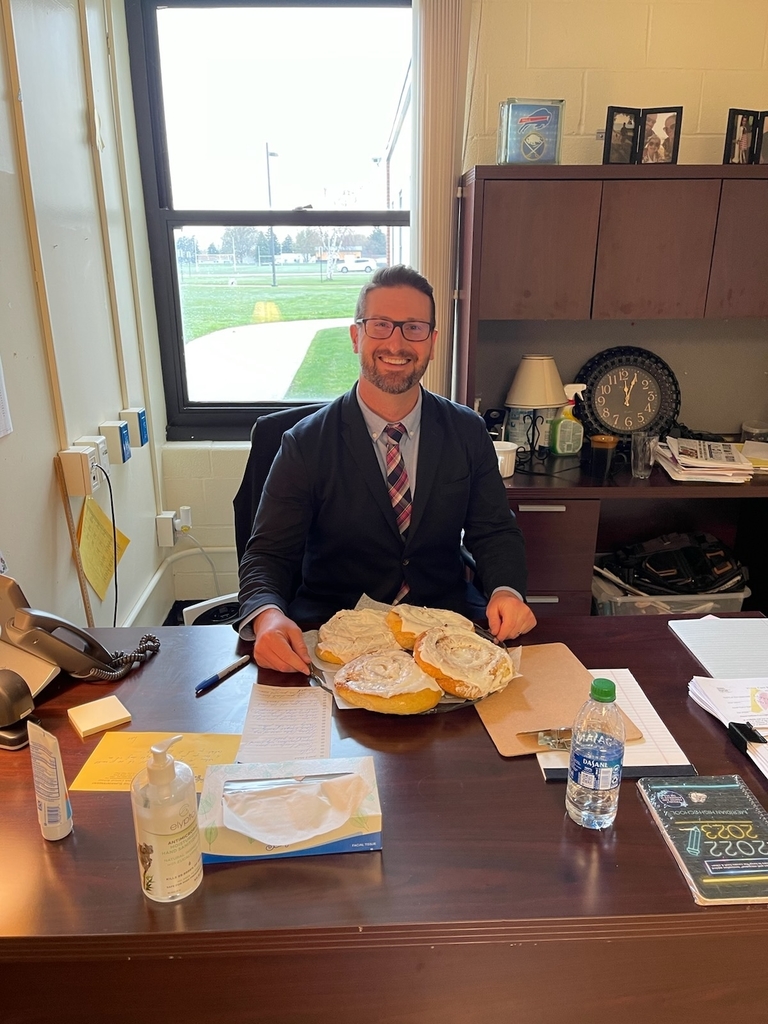 Congratulations to district librarian PAULA MICHALAK on receiving Sustainable Library Certification for her work at Silver Creek Central School District! Mrs. Michalak works with K-12 students and fosters partnerships across the district with an emphasis on "consistency, familiarity and building fluency in research techniques" to build a solid foundation for skills in students. In addition, she has found new avenues for collaboration in the community via a high school internship program. She represents school libraries on the Erie 2-Chautauqua-Cattaraugus BOCES School Library System Committee and is a member of the Building Leadership Team at SCCS. Read more about this recognition here:
https://sustainablelibrariesinitiative.org/media/document/191
#wearesilvercreek #bkp #blackknightpride #childrensbookweek