SCHS Students Compete in 2022 STEM Wars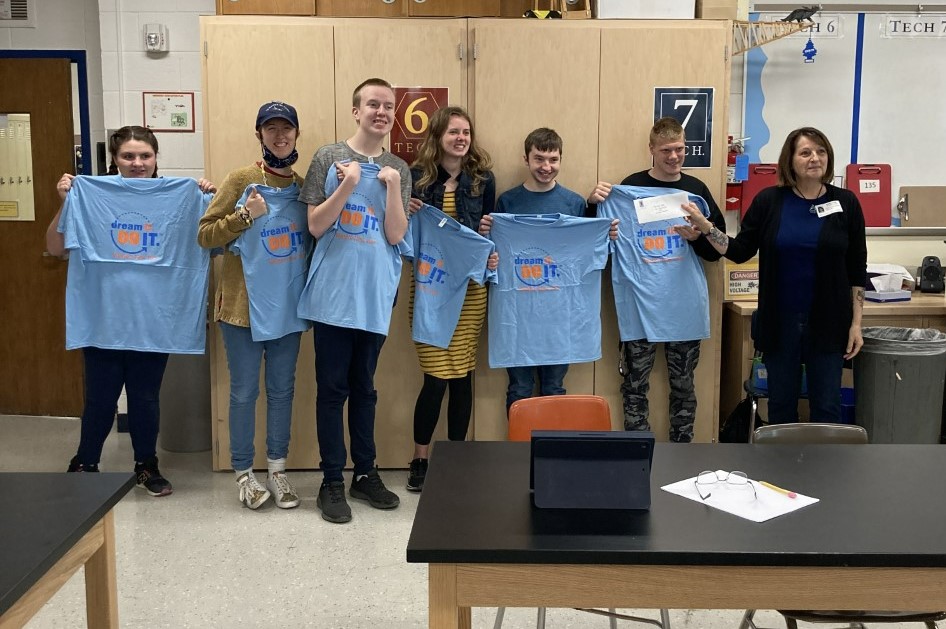 Pictured: Ms. Francine Rondinelle from Dream It, Do It W.N.Y. visited Mr. Francisco's HS Tech Explorations class to congratulate them on their Rube Goldberg Video Entry to 2022 Chautauqua STEM Wars. The class was given a $100.00 Chamber of Commerce Gift Card and T-shirts. Ms. Rondinelle also talked to the class about manufacturing and industry in the Chautauqua area and getting students exposed to potential careers in many exciting fields.

Black Knights in the Tech Explorations class with Mrs. Janet Decker and Mr. Jamie Francisco at Silver Creek Central School District produced a Rube Goldberg Machine as part of the 2022 Chautauqua County STEM Wars Competition. Our students were challenged to submit a video of the machine because of COVID restrictions and distancing at Jamestown Community College.
A Rube Goldberg Machine is a mechanism that can accomplish a very simple task with the most complicated series of steps imaginable. The Tech Explorations class chose to build a machine to push or pull a chair under a desk.
Designs for their 11-step machine were sketched out in large drawings and assembled to realize how they needed to connect the actions to pull in the chair. Student teams were required to use only common household or classroom materials.
It took quite a lot of trial-and-error and experimenting to adjust the parts to work together. For example, mousetraps don't always snap when you want them to. In the end this was a fun, interesting and different way to learn that physics can be fun.